Are you looking for railroad jobs in New York? You're in for a ride today. As they say, it's the city that never sleeps. New York is home to a handful of networks. So if you're looking for jobs in the area, you won't fall short of any options. To begin, New York is home to four Class I railways and These account for 65% of the state's rail mileage. 
The Class I railways in NY are Canadian National, Canadian Pacific, CSX, and Norfolk Southern.
The state also houses four well-known Class II regionals. And finally, New York has many shortlines. Amtrack and three other passenger rails run through the area, too.
Overall, New York has roughly 45 freight railroads totaling 4,500 miles of trackage. 
Even then, New York already made its mark on the country's railroads. For instance, New York's railways supersede the famous Baltimore and Ohio.
The state also comes second to Pennsylvania in terms of the 1840s route miles. The state did decrease by more than 50% in route miles since its peak, though. A single post cannot do justice to the many facets of New York's railroad history.
What remains of track without a doubt, these did and still do play a big part in the state's (and country's) economy.
Finding a job may be difficult, particularly if you aren't sure where to start your quest. So, we've compiled all the essential information all in one post.
Below, we list down all the railroad companies in New York you can apply for. Prior to that, we discuss the economic significance of New York's railways. And finally, we add in a few must-read pointers for new railroaders.
Get yourselves ready, and take notes.
Let's start.
The Economic Role of Railroads in New York
The multimodal transport network in New York comprises a variety of infrastructures.
This includes rails, highways, municipal roads, and public transportation, to name a few.
New York has one of the biggest and most diverse rail transit networks.
Other forms of transportation can't compete with its convenience.
Let's take a look at the 2007-2009 numbers: 
New York's freight rail system transports over 73 million tonnages of freight yearly.
A total of 400,000 containers were transported by rail from on-dock Express Rail facilities. This includes the Port Authority of New York and New Jersey. These numbers made it the fastest-growing traffic category for freight railroads. 
Every year, around 1.5 million people travel on Amtrak's Empire and Adirondack services. 
New York rails can carry tons and tons of freight. Due to this, it becomes the most energy-efficient form of transportation.
It also enhances sustainability and safety regulatory quality — all while reducing traffic congestion. Apart from this, businesses and farmers can expand their markets efficiently and rail offers them a competitive global standpoint.
Additionally, rail provides them with a cost-efficient shipping option. And to top it all off, it promotes the industry as a whole and creates new jobs. 
Approximately 3,000 people work for freight railways in New York City today. Amtrak and commuter railways employ roughly 14,000 individuals.
In total, there are 17,000 railroad workers in the state!
Overall, railways provide advantages that other types of transportation do not. Hence, working in this field might be rewarding.
However, if you're a newcomer to the industry, there are a few things you should be aware of.
Working As A Railroader: Pros, Cons, and Other Factors To Consider
Understanding how railroads function is a beneficial move. The reality is, that not everyone is cut out for the railroading life.
The idea of railroading is often depicted as thrilling, outdoorsy, and even entertaining. However, this is only true in particular circumstances.
Furthermore, some people tend to distort or dramatize the railroader concept. 
First off, the winters in New York are particularly harsh and dreary.
So, keep this in mind, especially if you're looking into a position that usually works outdoors. Secondly, working for the railroad may be physically and psychologically exhausting.
Remember, class I jobs often require 12-hour daily shifts. And if required, the company might transfer you to a new location or post.
Overall, railroading can become your new lifestyle, this means that you'll be away from home and family more often. 
On a brighter note, Class I positions are among the highest-paid in the sector. They also provide extensive benefits and pension plans.
For some people, this is worth the sacrifice. 
If you're not keen on working long shifts, you can aim for class IIs or shortlines. However, their salaries do not equal those of Class I positions.
A railroader in New York can expect to make an annual salary of $49,000 on average. That's about 23 dollars hourly.
However, a lot of things affect the overall wage. This includes a person's level of education, experience, and skills.
However, after years of hard effort, it's not unusual to earn six figures.
These are frequently the deal-breakers for railroaders who are interested in applying. So, bear it in mind while making your decision.
It's ultimately up to you.
Do the advantages outweigh the disadvantages? Are you alright with being away from your loved ones a lot? 
Without further ado, here are your railroad job options in New York! 
Class I Railroad Jobs in New York
Canadian National
The Canadian National is one of the country's seven major Class I railways. It is also one of Canada's two main networks.
Canadian National reaches every corner of its home country. In addition, it serves the United States Midwestern and Gulf Coasts.
Initially, the network was a government-owned railway network. Its primary function at the time was to connect dormant and defunct lines.
Eventually, it developed as one of the largest networks in the nation. In 1995, it ultimately became privately owned. And now, it provides a vast variety of services and transports many goods.
Canadian National operates around 204,000 miles of track in total.
Click here for additional information on the company and employment opportunities.
Canadian Pacific Railway
This Class I network is Canada's very first oldest transcontinental railroad. Unlike Canadian National, Canadian Pacific was and remains privately owned.
Overall, the company boasts a whopping 20,100 miles of trackage. Its locomotives run through seven Canadian provinces and the USA.
Click here to learn more about their employment opportunities.
CSX Transportation
This Class I network is also referred to as CSX or CSXT.  Parent company CSX Corporation owns and runs this network. Additionally, they have been operating since the 1980s.
It initially existed as a holding company. However, as its companies expanded, so did the entire system.
In 1999, it also bought more than half of Conrail's infrastructure. And by the end of 2022, they acquired Pam Am Railways. It actually broadened its network coverage to include the majority of New England.
CSX came in third among Class I railways in the United States. Their network consists of a total of 34,000 miles of trackage.
Click here to learn more about employment with CSX.
Norfolk Southern
This Class I network is the second-largest network in eastern North America. Additionally, they are renowned for their dependable and solid administration.
Fun fact, a significant portion of the present-day Norfolk Southern was established through a merger.
This includes Norfolk and Western and the Southern Railway. Similarly, they were also highly valued due to their history of efficient management.
However, Norfolk Southern handles a total of 28,400 miles of track. Various firms also have trackage rights for a portion of these miles.
Read more about Norfolk Southern Jobs and Opportunites by clicking here.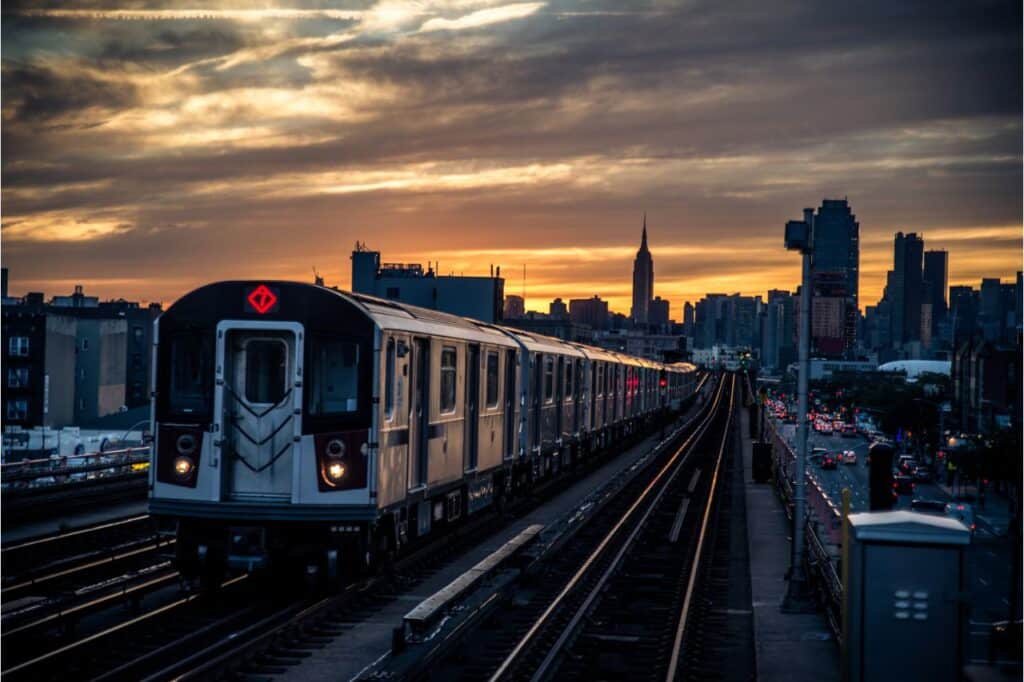 Class II Regional Railroad Jobs in New York 
Buffalo and Pittsburgh Railroad
First on this list is a Genesee & Wyoming-owned class II regional. In total, the BPRR operates approximately 368 miles of trackage. Its routes travel to Buffalo and Eidenau.
The Allegheny Valley Railroad connects this area to the city center. The majority of the system's tracks were formerly part of the Baltimore & Ohio system.
Moreover, this railroad hauls petroleum, paper, steel, coal, and sand. Learn more about the BPRR by clicking here. 
New York, Susquehanna, and Western Railway
This regional railroad is also referred to as the NYSW. After a merger of numerous minor railways, the railroad commenced in 1881.
After 1966, its northern New Jersey area's passenger service was discontinued. And in 1990, the Delaware Otsego Corporation bought the railroad. From here, it enjoyed success in the intermodal freight transport sector. 
Today, it operates a total of 400 miles of trackage. It has three primary routes. One in Jersey City to Binghampton.
The next one lies within two Binghampton branches. This serves Syracuse and Utica. And finally, its Utica division does street running through Schuyler Street.
Overall, the NYSW runs a total of 400 miles of trackage.
Learn more about their opportunities by clicking here. 
Pan Am Railways (now acquired by CSX) 
This class II is one of the most popular railways. It is also relatively new, being established just in 2006. Pam Am was America's most prominent class II regional railway.
They operated a total of 1,800 miles of trackage. And apart from this, Amtrack also runs through its rails. But in late June 2020, the company announced that they selling their company. And a few months after that, CSX bought them for $700 million.
The class I company CSX aims to grow this network into America's Northeast areas.
You can learn more about the company by clicking here. For employment opportunities, visit the CSX website here.
Providence and Worcester Railroad
Another G&W-owned shortline on this list is the PW. The Providence and Worcester Railroad was launched in 1844. During this time, its main purpose was to connect Providence and Worchester.
This regional line independently operated up until the 1890s. But in 1892, the New Haven railroad leased them. There were a lot of back and forths on its independence and ownership in the next few years.
Finally, and until this day, it is still a G&W-owned regional. 
The Providence and Worcester Railroad runs 612 miles of trackage in total. Its routes run through Rhode Island, Connecticut, and New York (through trackage rights).
Learn more there opportunities by clicking here. 
Class III Shortline, Terminal, and Switching Railroad Jobs in New York
Albany Port Railroad
The Albany Port Railroad, or APD, manages THE Port of Albany-industrial Rensselaer's trackage. This is situated on the Hudson Riven in Albany.
Among their clients is a substantial Cargill grain plant. Moreover, CSX and Canadian Pacific Railway jointly control the business.
Arcade and Attica Railroad
This freight-hauling shortline travels through Arcade and the North of Java. Back then, it used to stretch up to Attica.
However, this eventually became an abandoned route in the 1940s. ARA mostly handles agricultural goods. This includes soybeans, dairy, lumber, corn, and fertilizer.
Apart from this, they also do excursion passenger services from the months of May until October. In this 14-mile ride, passengers see historical railroad remnants.
Learn more about them by clicking here. 
Buffalo Southern Railroad
This shortline mainly runs through the Western region of New York. Don't get this confused with the  South Buffalo Railway.
The BSOR has a total of 32 miles of trackage. The Eerie County additionally owns these tracks. Additionally, these tracks are leased from its Industrial Development Agency.
Its routes travel from Buffalo and Gowanda and serve two villages throughout. It also does interchanges with class I and II railroads. 
B&H Rail
This shortline was the old  Bath & Hammondsport Railroad. Its routes serve Steuben and Corning. Overall, B&H rail has 51 miles of trackage.
Learn more about them by clicking here. 
Batten Kill Railroad
Sometimes referred to as BKRR, this shortline commenced in 1982. It has a total of 34 miles of trackage. 
Central New York Railroad
This is one of the bigger-sized shortlines in the state. Central New York Railroad has a total of 123 miles of track. Its routes run through Port Jervis and Binghampton.
Both of which are owned by class I Norfolk Southern. 
Livonia, Avon, and Lakeville Railroad
This historic shortline dates back to the 1960s. Currently, it totals 400 miles of trackage. Its routes stretch from the west of New York to the Northwestern of Pennysylvania.  
Massena Terminal Railroad
This is a Genesee & Wyoming-owned class III shortline. Currently, it services near Massena, in the Alcoa plant. Moreover, it hauls petroleum and aluminum goods. 
Middletown and New Jersey Railway
This shortline has a total of 43 miles of track. It's also among the shortlines that run through Middletown. Additionally, its routes travel to Orange County and Hudson Valley.
Learn more about them by clicking here. 
Mohawk, Adirondack & Northern Railroad
The MA&M is a shortline in Northern and Central New York. This railway uses the historic New York Central Railroad's tracks.
Moreover, it services Jefferson, St. Lawrence, Lewis, and Oneida. 
New York & Atlantic Railway
This shortline has been around since 1997. Also known as NYA or NY&A, serves mainly the Long Island in New York. It's also an Anacostia and Pacific Company affiliate. 
Passenger Railroad Jobs in New York
Please check the below links for selection of the top passenger railroad jobs in New York.
Kickstart Your Railroad Career With These Railroad Jobs in New York! 
There you have it, your possible railroad jobs in New York. Being home to four Class Is, you're likely to have more options.
You can also look through the regionals and shortlines of the state. 
Job-hunting won't always be easy. You might not find the perfect job for your right away. But, don't let it demotivate you.
So keep going, and you'll find one in no time. And when you do, rewards will reap tenfold.
If you don't have your heart completely set on New York, we have other options. Check out our railroad jobs per state. Click here.
You can also learn more about the industry by checking out our railroad posts here!
That finally wraps up our railroad jobs in New York!
Thanks for reading and best of luck with your job search and future railroad career!