You're in luck if you're looking for railroad jobs in North Carolina. North Carolina houses two major Class Is, which includes Norfolk Southern and CSX Transportation, read on.
These CLass s also make up more than half of the state's existing trackage. Unfortunately, the state doesn't hold any Class II regional railroads.
However, North Carolina has more than a dozen Class III shortlines. So, you've got relatively good options.
Amtrack also runs in the state, so if you're open to working a passenger railroad job, this is an option too. 
Railroads in Carolina also provide a diverse and unique range of services. These range from freight and passenger trains to shortline operations.
Freight widely spans from minerals to lumber to food. All in all, there are a little more than 3,000 miles of freight trackage in North Carolina.
Moreover, the state's railroad sector is an excellent economic driver. It benefits businesses, the government, employees — basically everyone. 
Finally, the railroad industry has always offered such great benefits. That's why it's such a fulfilling job. And we're here to help you kickstart your railroad career.
You may have difficulty finding work if you don't know where to begin your search. As a result, we've put everything you need to know in one place. 
In this post, we list down all the railroad companies you can apply for in North Carolina. Before that though, we talk about the economic importance of the state's rails.
This way, you get a better grasp of its conditions. Additionally, we've included a compilation of must-read tips for aspiring railroaders.
So, let's get started! 
Economic Impact of Railroads in North Carolina 
The North Carolina transportation system relies heavily on railroads. They make it possible to transport people and products to diverse locations at a minimal cost.
In a typical year, the North Carolina Railroad moves 11 million tons of freight.  This boosts the state's economy by an extra $794 million in sales. And as a whole, rail freight in the state generates 1.7 billion in direct economic effects.
This is mainly due to three things: savings on shipping, less traffic congestion, and pavement construction savings. 
Apart from these, freight also helps businesses tap state and international markets. A class I network can immediately haul to different parts of the country. It can even help goods reach Canada and Mexico!
Finally, it's also a job-generating sector. Just one class I network alone can employ hundreds of individuals.
Railroads are also one of the top-paying sectors, they allows individuals to reap competitive salaries, benefits, and retirement plans. 
Working For The Railroad: What It's Like and Factors To Consider
It's a brilliant idea to get familiar with the inner workings of a railroad.
The truth is that not everyone is suited to a career on the rails. In popular culture, railroading is often portrayed as exhilarating, easygoing, and fun.
However, this is only applicable in certain situations. The idea of a railroader is also often misunderstood or sensationalized by others.
First off, working as a railroader can be emotionally and physically taxing.
One reason for this is due to their long hours. 12-hour shifts are very common in Class I positions. Your employer can also move you to a different location or post if needed. This will change your overall lifestyle.
As a result, you'll be spending a lot of time away from your family. The good news is that Class I jobs are among the best paid in the industry.
Additionally, they provide a wide range of perks and pension options. In the eyes of some, it's a worthwhile trade-off.
If you don't want to work long shifts, you may go for class IIs or shortlines. They are, however, paid less than Class I jobs.
The average yearly wage for a railroader in North Carolina is $32,000. That works out to around $15 an hour.
However, a wide range of factors leads to this. This includes a person's degree of education, experience, and abilities. It's fairly uncommon to make six figures after putting in years of work.
These are typically the deciding factors for prospective railroaders. There is no "one-size-fits-all" job. This is entirely up to you. 
Are the benefits greater than the drawbacks? Are you able to put up with a lot of time apart from your family?
Make sure you think about it thoroughly.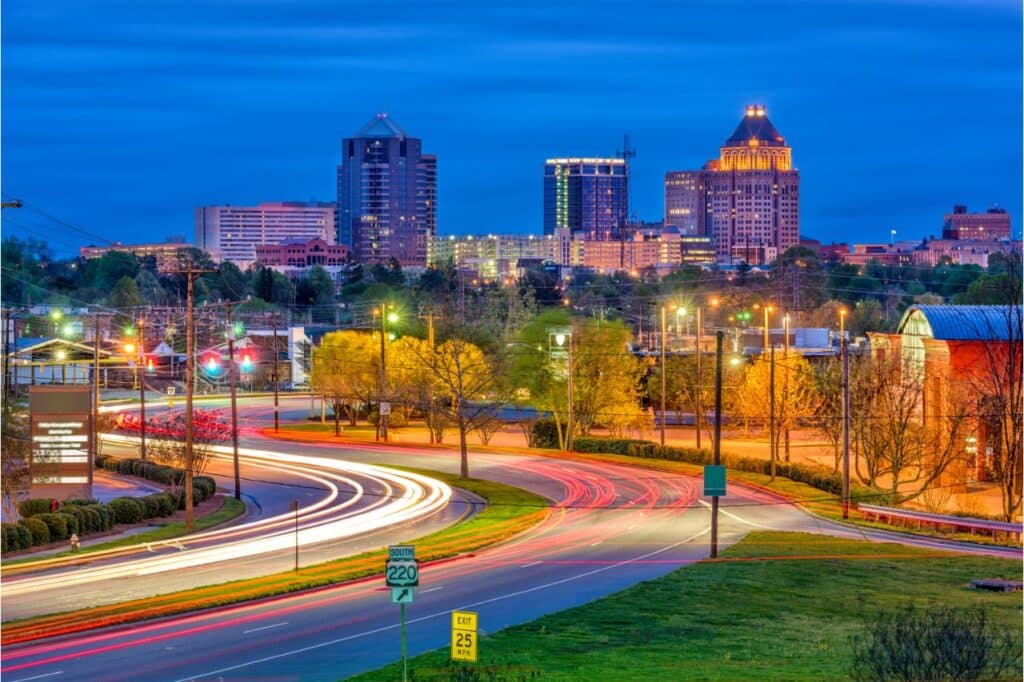 Class I Railroad Jobs in North Carolina
CSX Transportation
The CSX Corporation's railroading division operates this business, founded in 1987. They have been in business ever since.
Today, it's one of the most prominent class I railroads in the country. Currently, it ranks third in terms of total size and yearly revenue among the seven main Class Is in North America. 
The history of CSX is too extensive to go through here. However, their railways merged to become the greatest eastern railroad.
Today, they stretch from Florida, Massachusetts, Illinois, and New Orleans. They also cover all the eastern states of the Mississippi River. 
All in all, the company totals 21,000 miles of track. 
Learn more about CSX transportation by clicking here. You can also visit the company's career page for more employment information. 
Norfolk Southern
The Norfolk Southern comes in second among the largest eastern USA railroads. It also comes forth in yearly revenue at 11 billion dollars.
Founded in 1881, NS had nearly 2,000 route miles of independent service at its height. The Virginian Railway, a minor competitor, was acquired in 1959.
Moreover, the Wabash and Nickel Plate Roads were purchased in the 1960s. These purchases have given it access to the Midwest and links to St. Louis, Chicago, and Buffalo, respectively.
Compared to CSX, Norfolk does not cover much of Florida or the Northeast. However, it services almost every eastern state. This includes New Orleans, Kansas, and Chicago.
It also has trackage rights in Canada, from Albany and Montreal too.
In total, the company operates 19,335 miles of track. 
Finally, the company is also known for having good employee management and benefits. So, if you're interested in working for them, click here. 
Shortline Railroad Jobs in North Carolina
Aberdeen and Rockfish Railroad
The Aberdeen and Rockfish Railroad or AR was once a regional railroad. However, now it is classified as a family-owned shortline.
It operates a total of 47 miles of trackage. Its routes travel to Aberdeen and Fayetteville.
Learn more about them by clicking here. 
Aberdeen, Carolina, and Western Railway
Also known as the ACWR, this shortline commenced in the 1980s. Its tracks took over an old branch line of the Norfolk Southern Railway. Additionally, they lease track from the Class I company in Gulf and Charlotte.
The ACWR services more than a dozen industries, primarily hauling agricultural goods. All in all, they operate a total of 140 miles of trackage. Learn more about the ACWR by clicking here. 
Alexander Railroad
This shortline started out in the 1940s. Some know it as the "Junebug Line". The Southern Railway has marked the route as being destined for closure. Consequently, local investors and business people came up to help. 
They collectively purchased the Statesville to Taylorsville branch line. Today, the Alexander Railroad makes up a total of 18 miles of trackage.
Learn more about them by clicking here. 
Atlantic and Western Railway
The ATW is a  Genesee & Wyoming Inc.-owned shortline. Overall, the Atlantic and Western Railway runs 10 miles of track. Their routes stretch from Sanford, from north to south.
Learn more about them through the G&W website. Click here. 
Blue Ridge Southern Railroad
The Blue Ridge Southern is a Watco-owned railroad. This line commenced only in 2014. Overall, it operates a total of 91 miles of trackage.
Additionally, they operate over the old NS trackage in North Carolina. Their routes travel to Asheville, Hendersonville, and East Flat Rock.
Moreover, they have trackage rights to the Murphy Junction and Dillsborough. They mainly hail wood, plastic, coal, salt, and paper.
Learn more about them through Watco's website. Click here.
Caldwell County Railroad
This shortline commenced in the 1990s. It totals 17 miles or 27 kilometers of trackage. Its routes also run from Lenoir and Hickory.
Moreover, they are a Southeast Shortlines-operated railroad.
Learn more about them by clicking here. 
Carolina Coastal Railway
The Carolina Coastal has been around since the 1980s. Today, the shortline services in both North and South Carolina.
All in all, they operate a total of 198 miles of trackage.
Learn more about them here. 
Chesapeake & Albemarle Railroad
Another G&W-owned shortline on this list is the Chesapeake & Albemarle. This railroad used to be a division of Class I Norfolk Southern's south network.
They previously traveled around  Albemarle Sound, Plymouth, and Mackey's Ferry. However, ever since G&W acquired them, they lowered their speed to 10mph.
All in all, they run a total of 68 miles of trackage. They also do interchanges with CSX and  Norfolk and Portsmouth Belt Line Railroad.
Finally, they mostly haul chemicals, lumber, stone, and cement.
Learn more about them by clicking here. 
Clinton Terminal Railroad
This terminal railroad is currently privately-owned. Near Clinton, the company runs 3.5 miles of switching track.
From here, it connects with Class I CSX Transportation. You can find their contact information through CSX's website. Click here. 
Great Smoky Mountains Railroad
GSMR is among the heritage railways in the state. It's also one of the most prominent tourist trains in the country. They serve roughly 200 thousand tourists each year. 
A heritage railway serves as a historical museum. They re-create and preserve railway sceneries from the past. 
These routes run through the old Southern Railway Murphy line. Apart from that, they also haul freight.
All in all, they run a total of 53 miles of trackage.
If you're interested in working for them, visit their website. Click here. 
High Point, Thomasville & Denton Railroad
HPTD used to run 20-mile trackage owned by the two Class I networks. However, they merged with the WSS in May 2011.
Today, this shortline hauls a wide range of freight. This includes chemicals, metal, sand, stone, paper, and more.
Laurinburg & Southern Railroad
This is a Gulf and Ohio Railways-owned shortline. The LRS totals 28 miles of 45 kilometers of trackage.
Its routes travel to Raeford and Laurinburg, however, a large portion of its rails is unused. Instead, these tracks store cars.
Learn more about them by clicking here. 
Morehead & South Fork Railroad
The Morehead and Southfork is a switching shortline. They mainly service Radio Island and Morehead's port facilities.
Overall, they have nearly 10 miles of trackage and they haul rubber, metal, and chemicals. 
North Carolina & Virginia Railroad
This is another G&W-owned shortline, operating 135 miles of trackage. The NC&V travels to Tunis and Boykins.
It also connects with CSX Transportation.
Learn more about them by clicking here. 
RJ Corman
Corman's fleet of shortlines just got a little bit longer with the addition of this one. It started operating in March 2016. The system makes use of 90 miles of former Carolina Southern Railroad trackage.
This shortline used to run Atlantic Coast Line properties in the 1990s. Moreover, RJ Corman's routes travel to Mullins, Chadbourn, and Myrtle Beach.
Thermal Belt Railway
Beginning operation in 1990, this small line connects Bostic and Spindale. It operates only over 9 miles of trackage. 
Virginia Southern Railroad
This is a North Caroline and Virginia-owned shortline. Virginia Southern runs through Oxford and Burkville. Overall, it operates 78 miles of trackage.
Learn more about them by clicking here. 
Wilmington Terminal Railroad
This route connects the Port of Wilmington. It's another G&W-owned shortline and manages ​​the bulk of the goods entering and departing the port.
Learn more about them by clicking here. 
Passenger Railroad Jobs in North Carolina
If you are looking to get on board an Amtrak train, their service operates all through North Carolina.
Check out Amtrak opportunities here.
Become A Railroader With These Railroad Jobs in North Carolina!
There you have it! There are quite a few companies offering railroad jobs in North Carolina
The state houses two major Class I networks. So, you're likely to find a lot of options here. On the other hand, the state also has a thriving number of class III shortlines.
Contact any of these companies today to get started!
Remember, job-hunting won't always be easy. So, be patient. There will be times you need to wait a little longer before hearing from the company.
But, stay hopeful and don't give up. You're bound to find a suited railroad job for you. And, once you do, you're up for tons of benefits.
Your railroad career will blossom, especially if you work hard. 
Looking for more options? We can help you with that, too! We have a complete list of railroad jobs in every state Click here.
And if you want to learn more about the industry, check out our posts. Come back from time to time for more railroad sector facts, history, and information. 
That finally wraps up our post on railroad jobs in North Carolina.
Good luck in your job hunt and future employment on the railroad!