There is so many model train brands on the market, it can get confusing. I know it confuses me sometimes, and I've been collecting for years. So what is the best model train brand?
Let's dive in.
Bachmann, Lionel, LLC, Athearn, Kato USA, and Atlas Model Railroad Co. Inc. are some of the best model train brands in the US and the world.
With their superior quality in detailing and manufacturing, you can be sure that their products are all world-class.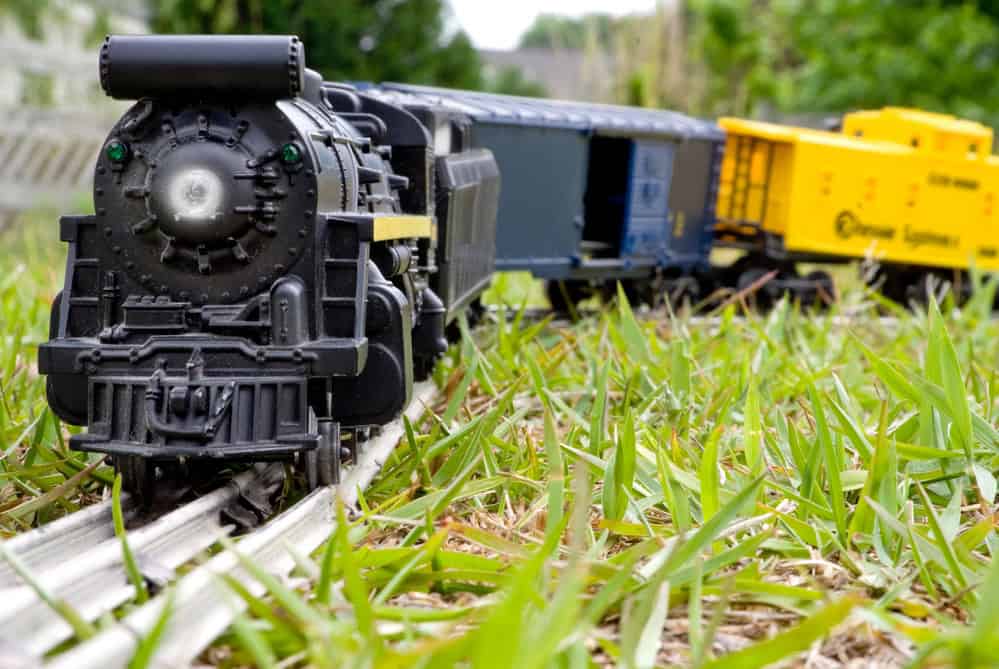 Model trains are a fun hobby for both young and old. Whether you're a new train hobbyist or a veteran in this field, anyone can appreciate the beauty of a well-designed and valuable toy train.
With many model train manufacturers in the market today, how will you know which ones are the best?
Additionally, they specialize in different model train scale sizes. If you want to focus on a certain scale size, you need to know which manufacturer produces it best.
Let's discuss this further.
10 Best Model Train Brands You Need To Know About
There are a lot of companies that manufacture model trains, railroad sets, rolling stock, and railroad accessories.
However, over the decades, some producers have created a name for themselves.
These manufacturers do not only produce quality toys, but they also give value to your money.
First up, one of my favorites Lionel.
1) Lionel, LLC| O and HO Scale
One of the oldest model train manufacturers in the world, Lionel LLC specializes in O-scale train sizes. Originally founded in New York City in 1900, the company continues to sell toy trains today.
However, they stopped all their production and selling during the Great Depression
Lionel, LLC products are available in almost the entire world. They are one of the market leaders for model locomotives, trains, tracks, freight and passenger cars, and essential gears.
Over the course of many decades, this company has been the top producer in the O scale segment.
In recent years, they also have been producing high-quality HO scale that took the market by storm.
Next up, another big name in the game, Bachmann Trains.
2)Bachmann Industries (Bachmann Trains) | O Scale
Bachmann Industries is also one of the leading manufacturers when it comes to model trains. From 1833 to 1968, they had fashion accessories, eyeglasses, and plastic toys.
In 1969, Bachmann partnered with Kader Group (The Kader Industrial Company Ltd).
The Kader Industrial Company Ltd. is a model train manufacturer in Hong Kong. Williams Electric Trains Owns Kader Group and bought Bachmann in 2007 to produce model trains. This allowed Bachmann to become one of the leading producers of model trains.
Currently, Bachmann is a market leader for entry-level model trains. They exclusively produce HO, N, and G scales, but the real trademark of Williams by Bachmann is the O scale.
Next up is Athearn.
3) Athearn | HO Scale
Irvin Athearn originally started selling his O-scale model railroad way back in 1938. However, he became a full-time model train retailer in 1946.
By 1948, he opened his model train facility in California, where he branched out into his famous HO scale.
Athearn is famous for its model trains with an HO scale that is high-quality, accurate, and can be very valuable.
Thanks to their unprecedented success in this scale model, Lionel LLC partnered with Athearn in 1958 to produce HO train sets.
Currently, the best-selling products of this company are the following: Athearn HO SD60E with DCC & Sound and the Athearn GP40-2 #3007.
Following on to Kato, a solid American brand.
4)Kato USA | N Scale
Since its first release of the GP38-2 N scale model in 1987, Kato USA has become the leading manufacturer of this scale model.
Although the company also produces HO scale, their N Scale model trains are among the best in the market because of their operation, detail, and high level of craftsmanship.
Kato USA is also the manufacturer of UNITRACK, which is now considered by many the best rail & roadbed modular track system in the market today.
Other brands specialize in the N scale, however, Kato USA is favored by many because of their prices.
Other manufacturers sell this scale at an expensive price which can be a turn off for beginner hobbyists.
Kato USA offers its products at the mid-range level making them somewhat affordable and valuable simultaneously.
Now we cross the ocean to Germany! Welcome Märklin trains.
5)Märklin | Z Scale
Although Märklin was founded in 1859 in Göppingen in Baden-Württemberg, Germany, the company didn't start producing model trains until 1891.
This company is known for its N and HO scale model trains. However, they are famous for their Z scale models.
The products of Märklin are more pricey compared to its competitors. Additionally, their most in-demand products are not safe as a gift to children under the age of 8 because they are fairly small and expensive too.
Now onto one of my all-time favorites, Atlas Model Railroad Co.
6) Atlas Model Railroad Co. Inc. | O Scale
Atlas Tool Company was first established in 1924 and produced model airplanes.
In 1947, they built their first factory near Hillside, New Jersey. But by 1949, the company was turned into a corporation where they popularized their model tracks and other related products.
As the years passed, Atlas expanded its production and market. They are now famous for producing O, N, HO, and Z scale model trains.
Additionally, aside from model trains of various scales and railroad sets, they now manufacture rolling stock.
The downside to Atlas Model Railroad Co. Inc. is that all its products have premium prices. If you're a beginner-train hobbyist, you may have difficulty investing in Atlas.
Their Master locomotive set price is set at a price as the basic set of other brands!
Onto Williams Electric Trains.
7)Williams Electric Trains | O Scale
Williams Electric Trains was originally an American toy train brand and manufacturer that you can find in Columbia, Maryland.
However, in October 2007, the company was sold to Kader Group. Currently, this company is now "Williams by Bachmann".
As mentioned, Bachmann Trains are famous for their HO scale, well Williams is popular for their O scale model trains. Some popular products are Williams FP204S with Sound FX, Williams 41706 O Conrail GG-1 Electric Locomotive, and Williams 40601 O Southern 3-Rail Steam Locomotive.
And now for an oldie but a goodie
8) Wm. K. Walthers, Inc. | HO Scale
Wm. K. Walthers, Inc. is one of the oldest manufacturers and distributors of tools and supplies in the model railroad industry. Founded in 1932, the company first made wind-up and small toys for Christmas in Milwaukee.
After several years of creating signaling and train control systems, the company began to expand and became a distributor for more than 200 manufacturers.
Some of the products that they create are model trains, railroad sets, model buildings, scenery, rolling stock, people, and other railroad essentials and accessories.
Although Wm. K. Walthers, Inc. produces all scale sizes, they are famous for their HO scale model train sets. They are the first to introduce the hitherto subscription program in 2021 that caters to all model hobbyists, railroaders, and enthusiasts.
Next up is a G scale specialist.
9) Lehmann Gross Bahn | G Scale
The Lehmann Gross Bahn or LGB (Lehmann Big Train) is another German model train brand and manufacturer that is a subsidiary of Märklin.
Although the company was founded in 1968, Märklin bought the company in 2007.
Lehmann Gross Bahn or LGB specializes in G scale models and is one of the most popular brands in Europe.
What separates LGB from its competitors is that they produce high-quality and detailed products for serious outdoor installation hobbyists.
Additionally, most of their products are slightly costlier for beginner sets. These sets include DCC or MTC control, steam sounds that coincide with the engine speed, smoke generator, and fluid systems, directional lights, and more.
Last up we have PIKO.
PIKO | G Scale
PIKO is another German company that was founded in 1949 as a state-owned enterprise by the German Democratic Republic. After Germany's reunification in 1992, PIKO Spielwaren GmbH bought the company.
PIKO produces N, TT, and HO scale models. However, they are most famous for their G gauge sets.
They sell their products at a premium price tag, but with high-detailing and incredible aesthetics. Additionally, most of the hobbyists that buy PIKO choose their products because of the intricate coloring and detailing.
Their most popular products are the PIKO G Scale WP&Y Freight Starter Set and the PIKO G Scale Gazebo are now selling for hundreds of dollars.
This is a tad more expensive than other brands where you can purchase several sets at a lower price.
Best Model Train Brand – Conclusion
There are hundreds of model train manufacturers in the world. However, there could only be a handful that standd out the most.
Lionel LLC, Bachmann, LGB, and Athearn, are just some of the best model train brands or manufacturers that produce high-quality, aesthetic, and realistic products.
Remember to research the model you are buying in close detail to be sure you are buying quality.