Are you about to start your journey as a railroader? If you're looking for railroad jobs in Nebraska, you're on the right track.
With five out of seven Class Is in the state, you've got plenty of possible opportunities.
These include BSNF and Union Pacific, which account for most of Nebraska's railways. Then, there's also Canadian Pacific, Canadian National, and Kansas City Southern too.
Besides that, there are also two regionals in the state.
These are the Iowa Interstate and the Nebraska Kansas Colorado Railway.
And to top it all off, there are also shortline railways, plus, Amtrack runs through Nebraska, too.
So, you may also have passenger railroad job options. That said, you're in for a lot of different choices.
All in all, Nebraska's railway lines totals around 3,400 miles of trackage. 
Rails play a notable role in the state as well.
Nebraska was renowned mostly for its agriculture. And railways play a huge part in that. Food and agricultural commodities contribute to almost 90% of the state's freight.
For this reason (and more), this makes rail a large contributing driver of the state's economy.
Overall, Nebraska's a fairly great location to start your railroad career. 
We've put up a comprehensive job-hunting guide for you today. In this post, we discuss all your possibilities for railroad jobs in Nebraska.
This way, you will know who to contact.  And prior to that, we highlight the history, status, and effect of Nebraska's railroads.
This is really important to grasp if you're working in the area.
We additionally add some useful pointers for you.
Are you all set? Let's start. 
Nebraska's Railroads: History and Impact on The Economy 
Back then, Nebraska flourished primarily around its nearby waterways and streams. But of course, this wasn't enough as time went on.
For Nebraska to keep up with the times, they needed a better mode of transportation. Wagons kept up the pace for a while.
But, this wasn't a viable and long-term solution. It needed iron highways, rails, and steam engines.
It was a huge undertaking to introduce railways to Nebraska. 
The state's railways stretch back to the 1860s. During this time, Lincoln signed the Pacific Railroad Act.
This allowed the development of the Transcontinental Railroad to commence.
In this route, Union Pacific traveled to the West. Eventually (and until today), the Union Pacific was one of the greatest railroads in the West.
From here on out, many more rails were established. There was even the infamous "Cowboy Line" that was meant to provide a Pacific Coast path.
However, it went bankrupt before completion, but It subsequently evolved into a lengthy agricultural division.
During the Nebraska railways' pinnacle, it boasted more than 6,000 miles of track. But, as a granger state, it lost a lot of rails.
More than 40% of the rail infrastructure was lost. But, this is considered a normal occurrence. Most granger states experienced the same, and even more defunct rails. 
And despite its abandoned railways, the state's railroads are thriving now. 
Nebraska's Railroads and The Economy 
Recently, the Nebraskan railroads were put under considerable pressure. News broke out the government wants to pursue its restrictions which would impede growth.
This issue really enhanced everyone's understanding of the supply chain importance. It also stresses how freight plays a big part in it.
Let's just hope that this over-regulation doesn't have a negative affect on the industry.
To say that railroads are important in Nebraska is an understatement.
They are beneficial to everyone involved. This includes a plethora of industries — including agriculture, coal, food, and more.
Additionally, it serves farmers, businesses, and traveling customers.
Nebraska performs a crucial position in the U.S. and foreign supply chains too. This is due to its proximity to major marketplaces.
And apart from that, it offers many employment opportunities too.
Can you imagine just how many employees one Class I railroad company has? In fact, Union Pacific had over 45,000 employees back in 2012.  
This resulted in a roughly 1 billion dollar payroll!!
Working for the Nebraskan railroad can offer you much fulfillment. You will be a part of an important sector, helping lots of businesses and farmers.
Add to that the benefits and long-term growth of being a railroaded!
What It's Like Being A Railroader In Nebraska: Things You Should Know 
Good wage, great benefits, pension plans, and more. These are probably one of the best aspects that you've heard about railroading.
These are, indeed, true. However, the industry is not suitable for everyone. 
First off, it demands a lot of commitment, especially with time.
Trains (especially the big players) run round the clock. Class I work (mostly crews and maintenance) normally involve a daily 12-hour shift.
Sometimes, you work on the weekends and on holidays. Due to this, you might spend a lot of time away from home. 
But, on a lighter note, Class Is offers some of the highest compensations in the industry. They also provide many more benefits like retirement.
That's why some retired railroaders (including myself here) say that it's worth the sacrifice.
If you don't want to work long hours, look into shorter railways.
Class IIs and IIIs mostly provide flexible and more set schedules, however, the pay may not be as grand as Class Is. 
Entry-level railroad jobs can start in the $30,000 range. And, it's not at all peculiar to earn close of more than 6-digits yearly after years of working. 
And finally, if you're a college student, watch out for Class I programs and seminars. Several Class I companies provide internships to help you gain experience while studying. 
These are generally the deciding variables for aspiring railroaders. In the end, the decision is yours to make.
So, before you dive in, be careful to assess your skills and talents.
Now that we've covered the fundamentals, let's get into the specifics.
Here are all the companies you can apply for railroad jobs in Nebraska:
Class I Railroad Jobs in Nebraska
BNSF Railway
The Burlington Northern Santa Fe dates back to the 1970s. And it's still one of the greatest in the nation today.
BNSF maintains an astounding 32,500 miles of trackage. Their routes cover 28 states in the United States and three provinces in Canada.
And given that it's one of the largest railroads, it offers numerous opportunities.
Interestingly, the average BSNF worker can get paid around $53-57 hourly.  
Learn more about their job openings by clicking here. 
Union Pacific 
UP is one of the largest and most prominent railways in the country.
Well before American Civil War started, the network was already up and running. It's also known as a former component of the Transcontinental Railroad.
UP has seen almost every significant development in the rail industry in the United States.
Additionally, it's currently listed as a Fortune 150 company, gain experience working with the most dependable network in the nation.
Learn more about jobs at UP by clicking here. 
Canadian National Railway
The beginnings of Canadian National commenced in the 1910s.
The Canadian government established the company to operate several Canadian rails.
However, they finally became privately owned in 1995. After this, it greatly expanded its network.
It also took over a lot of classic railways in the US. This includes the Illinois Central, Wisconsin Sothern, Milwaukee Road, and more. 
Because of these purchases, their routes reached as far as New Orleans. Currently, the company operates approximately 20,000-mile trackage.
It places 5th in the 7 class Is in terms of yearly income.
Click here to learn more about their careers. 
Canadian Pacific Railway
This is the first and longest transcontinental network.
The Canadian Pacific railway did not start as government property, though. However, the government oversaw its construction.
The Canadian Pacific Railway launched sometime in the 1880s.
So, it was established around 10 years before Canadian National.
Currently, the company runs over 14,000 miles of trackage.
Their routes stretch from Canada to the Upper West of the USA.
Kansas City Southern
This is a Class I railroad, one of the smallest in the sector.
A subsidiary of Norfolk Southern, Kansas City Southern began in 1880. And it is still going strong today.
It ultimately became a transportation connection between the Gulf Coast and the state of Kansas.
Despite the proliferation of mergers in 1970, the company remained independent.
Even more remarkable, the company's network extended to Mexico.
Since then, nothing has changed in KCSR.
And to this day, a large part of the system is still in use.
Want to work at KCSR? Click here to learn more.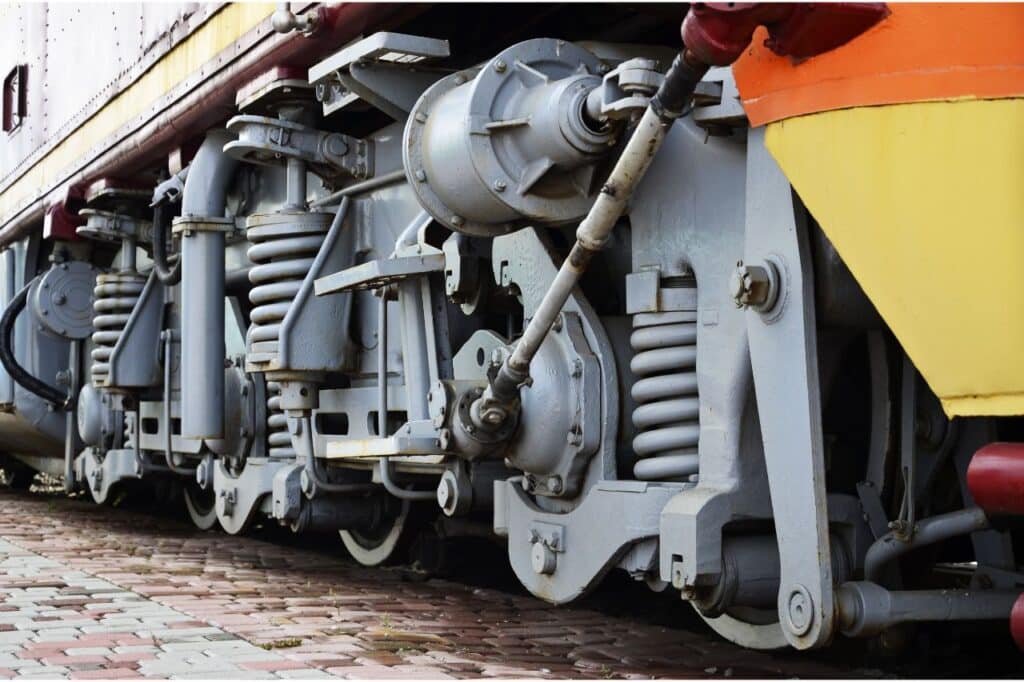 Class II Regional Railroad Jobs in Nebraska
Iowa Interstate Railroad
The Iowa Interstate Railroad is a regional railroad serving the heart of the USA.
The owner of this network is the Railroad Development Corporation.
Overall, the network runs a total of 580 miles.
Its routes cover Iowa, Chicago, Council Bluffs, and Illinois.
For more information about employment, visit their website. Click here. 
Nebraska Kansas and Colorado Railway
This network was once the Nebraska, Kansas, and Colorado Rail Net.
The Nebraska Kansas Colorado Railway operates a total of 559 miles (or 819 kilometers) of trackage.
Additionally, their headquarters are in Grant, Nebraska.
The company primarily hauls Agri products (mostly grain) to the NPPD. 
Since they are an OmniTRAX-owned network, visit their website for job information. 
Class III Shortline, Terminal, and Switching Railroad Jobs in Nebraska
Brandon Railroad
The Brandon Railroad's routes loop all over Omaha.
This terminal network runs 17-mile trackage.
Additionally, they inherited the previous South Omaha Terminal Railway in the 1970s. 
NEBKOTA Railway
This is a class III shortline network that launched in the 1990s.
It runs a total of 73 miles of track. Its route also stretches from Chadron and Merriman.
Mostly, their freight consists of Agri products.
Half of their trackage is still in operations today.
And, it is a part of Nebraska Northwestern's present network. 
Nebraska Central Railroad
The Rio Grande Pacific Corporation is the parent company of the Nebraska Central railroad.
This shortline commenced in the 1990s as well.
Currently, they run a total of 340 miles of trackage.
If you want to work for the Nebraska Central Railroad, visit the Rio Grande Pacific's website.
Nebraska Northwestern Railroad
This is a relatively new shortline that started in 2010. Its route covers Chandon and the Dakota Junction.
In total, they run about 7 miles of trackage and you can learn more on their website.
Omaha, Lincoln & Beatrice Railway
The OL&B was founded as an intercity railroad in the 1900s.
This branch mostly serves Lincoln with switching services.
Learn more about this shortline by clicking here. 
Sidney & Lowe Railroad
Since its inception in 1980, this modest switching road has expanded rapidly.
Progress Rail Service has a section for it.
Information about employment opportunities and how to get in touch may be found on their website.
Rapid City, Pierre, and Eastern Railroad
Last on this list is a Genesee & Wyoming-owned shortline.
This railway now covers the old 670-mile Dakota, Minnesota & Eastern. 
Start Your Railroad Career With These Railroad Jobs in Nebraska! 
There you have it!
Overall, there are a lot of possibilities for you in Nebraska.
There is a good number of Class Is.
This means you have a higher chance of bagging a class I job here, compared to other states.
Plus, you have so many other choices with class IIs and IIIs.
But, don't rush the decision. As we stated, find what and what doesn't work for you.
Then, go from there. This way, you get to find the most suitable job for you. 
Job hunting won't always be easy.
That's important to keep in mind and the job market can be very competitive and tight at times.
But, don't give up. You're bound to find a railroad job that suits you.
In the end, it will be worth all the while. And it only gets better once you get the job! So, keep going. 
Not completely set on Nebraska just yet? That's fine, too. We can help you expand your options. You can check out our railroad jobs per state. Click here. 
If you also want to learn more about the railroad industry, check our website from time to time. We tackle a lot of topics in the sector. 
That finally wraps up the railroad jobs in Nebraska.
Good luck on your job hunt and career!