If you're looking for railroad jobs in Mississippi, you're in luck! Railroading in Mississippi represents the pinnacle of the South's concerted effort. It features marshy landscapes with an abundance of waterways. It also boasts coastal activities and seaport facilities too!
Most importantly it has many opportunities in the railroad industry! Read on.
What's more, the state houses five Class I railroad companies. This includes BNSF, CSX, Canadian National, KCSR, and Norfolk Southern Railway. Amtrack also runs operations in the state.
Mississippi is also home to one class II railroad   — the Alabama & Gulf Coast Railway. Finally, the state has a thriving number of shortlines. Due to this, your opportunities are endless! 
Mississippi's long rail history is also worth noting. Without it, most of the transportation sector wouldn't be where it is today. The state's railroad heritage may also be seen in several of its museums.
These feature vintage carriages and models reflecting the rail sector's past. And presently, Mississippi still remains a major source of train traffic. It's undoubtedly a large contributing factor to the state's economy. 
And now, we're here to help you with your job quest! In this post, we'll list all of the state's current operating railways.
We also discuss how railways affect the economy. This way, you get a better understanding of the region and its current state of affairs.
And lastly, we run through some tips you should keep in mind.
Let's begin!
How Railroads Transformed Mississippi
Mississippi is a typical Deep South state. It's a wonderful place to grow crops because of its lush, fertile soil.  Consequently, a wide variety of plants are cultivated in this area.
This might just be one of the reasons why railroads accumulated here. When the cotton harvest began in 1831, Mississippi acquired its first mule-drawn plow.
This paved the way for a multitude of tracks. In the next seventy years, there were over 4000 miles of track built. However, the state lost nearly 2,000 miles of track in the 1960s. Most of these were subsidiary lines. But after a few years, it gained more networks, and these networks still run today. 
Impact Of Mississippi Railroads On The Economy 
Mississippi now has more than 25 freight railways. Altogether, the state runs almost 2,500 miles of track. It's a big deal in the transportation sector. The Mississippi rails serve a wide range of industries, from manufacturing to retail. 
In fact, more than 110 thousand tons of goods are transported by rail in Mississippi annually. This includes vast amounts of metals, chemicals, crops, and agricultural goods. Probably anything you see on the grocery shelves is transported by freight. Apart from this, there are also Pascagoula shipbuilders, Hattiesburg plastic firms, and more. 
Additionally, freight railways provide clients with alternatives that they may not have otherwise. Take coal for instance. If coal is delivered only by truck, a power plant will be limited to using only coal produced locally.
However, railways make coal transportation to any place possible, well that's depending on the tracks of course!
Moreover, trains can haul more cargo than several vehicles combined. Because of this, it cuts a good fraction of transporting costs and produces fewer emissions too.
And, can you imagine how many employees railroads can hire? Given that Mississippi houses a slew of railroads, it gives so many opportunities, there are plenty of jobs on the railroad.
This includes engineers, conductors, trainmasters, yardmasters, and more. Today, there are almost 2,000 railroads in the state. And you can be a part of this thriving sector, too!
Things To Know Before Applying For Railroad Jobs in Mississippi
You've probably picked up that railroaders earn a lot. That's mostly true. Working as a railroader is a highly fulfilling job. It provides a fantastic salary, perks, and more.
Additionally, working on the railroads is well respected and offers a lot of fulfilment too.
And, as a prospective railroader, you should spend some time learning about it. This is especially true if you're just starting out. 
Firstly, the job involves a lot of time away from the family. Take train crews, for example. They must become used to living in random accommodation away from home whilst on the job. This usually applies to Class I jobs. Most Class I companies require you to work at least 12-hour shifts daily. 
Schedules are easier to forecast when you work for regionals and shortlines.  Despite this, wages aren't as generous compared to class Is. These are the things you have to consider when applying. Ultimately, it's up to you.
Finally, the salary. Mississippi railroaders earn an average of $42,300 yearly. However, this varies on a lot of factors. This includes skills, certifications, and years in the field. 
You should also know that railroading isn't a stagnant, dead-end job. In fact, there are so many opportunities for advancement. As long as you put in the work, you'll receive more benefits. 
Now, without further ado, let's explore your possibilities! 
Class I Railroad Jobs in Mississippi
BNSF Railway
Burlington Northern and Santa Fe Railway is a vital artery. The line conveniently links local residents to the rest of the world. BNSF has been an essential part of the American economy for 160 years and beyond. It is also the second-largest carrier in the country, trailing behind Union Pacific.  Additionally, BNSF is the solely Class I railroad that is privately held.
Moreover, the company offers many different positions and career paths. Overall, these positions pay well and provide generous benefits packages. 
Learn more about careers at BNSF by clicking here. 
CSX Transportation
Hailing from 1987, this Class I is going stronger than ever. It is one of North America's biggest players in the Class I category. Additionally, CSX is the third-largest in both total volume and yearly income. Moreover, careers at CSX span anything from conductors to engineers. Be a part of this booming network today. 
Learn more about your possible career opportunities. Click here. 
Canadian National Railway
In Canada, Canadian National runs from coast-to-coast. Its also among Canada's major rail networks. Their lines reach all the way to the Gulf Coast from the Midwest of the United States. Currently, their network totals more than 20,000 miles of track. Moreover, this company offers a wide mix of job positions. It spans from train crews to IT to business analysts.
Today, they have a staggering 24,000 employees on their books! 
Interested in applying? Check out their website for more career information Click here. 
Kansas City Southern Railway
KCSR is one of the smaller Class I railway infrastructures. KCS began as a local business in the 1880s. From there, it expanded to a regional line. It provided a link between the Gulf Coast and Kansas City. And in the 1970s, it was able to endure the turbulence of mega-mergers. During this time, it also expanded its line to Mexico. Additionally, it's a unique network because of its substantial freight services. 
Finally, it is one of the most stable networks out there. In fact, its operations barely changed over the last century. It also still operates much of its core network. 
There is a wide range of jobs available at KCSR, too! Join their team today. Learn more by clicking here. 
Norfolk Southern Railway
In terms of total size and yearly income, NS comes second after CSX. They are also the second to the largest railroad in the east of America. Two of its progenitors are the Southern Railway and Norfolk & Western Railroads. In 1982, these elements came together to create the core of the existing system. Additionally, they are highly regarded due to their long track record. 
NS is also highly known for its benefits and employee programs. And after working for long years, you can earn up to 6 digits. It's not uncommon for senior-level jobs in the company. 
Learn more about jobs at Norfolk Southern by clicking here. 
Class II (Regional) Railroad Jobs in Mississippi
Alabama & Gulf Coast Railway
The Alabama & Gulf Coast Railway (or AGR) is a G&W-owned regional. Its track runs a total of 349 miles. Their routes cover Pensacola, west of the city, and Columbus north. Additionally, AGR possesses trackage rights to BSNF to Armory. They also have trackage rights along the NS line. Visit G&W for more information. Click here. 
Shortline (Class III) and Terminal Railroad Jobs in Mississippi
Alabama Southern Railroad 
This shortline is a Watco-owned railroad since 2005. Overall, this shortline operates almost 85 miles of track. Its routes run from Columbus and Birmingham. Click here to learn more. 
Columbus & Greenville Railway
Another G&W shortline is the legendary CAGY. The Columbus & Greenville Railway shortline links Greenville and Greenwood. On another track section, it connects Columbus and West Point. Overall, CAGY runs 160 miles of track. Click here to learn more. 
Golden Triangle Railroad
This shortline maintains a total of 10 miles of track. GTRA's lines run near Columbus city and the south of Trunity. Additionally, it is a Patriot Rail Corporation-owned railway. GTRA also does interchanges with KCSR, BNSF, and NS. Click here. 
The Grenada Railroad 
The operation of this shortline commenced in 2009. Back then, it was trademarked as the Grenada railway. There was so little traffic on the old Grenada District original line. Because of this, Canadian National decided to sever it at the the180-mile mark. Its lines ran from Southaven and Canton. 
At one time, this route was the main connection between Chicago and New Orleans. However, once CN took control, they shifted their operations to Yazoo District.
This shortline was at risk of dysfunction on many occasions. In 2015, Iowa Pacific purchased it. However, the company had a precarious financial status (later on filed for bankruptcy). Because of this, International Rail Partners purchased the line in 2018. From here, it was named Grenada Railroad. 
Finally, GTR hauls mainly petrochemicals and grain. Click here to learn more.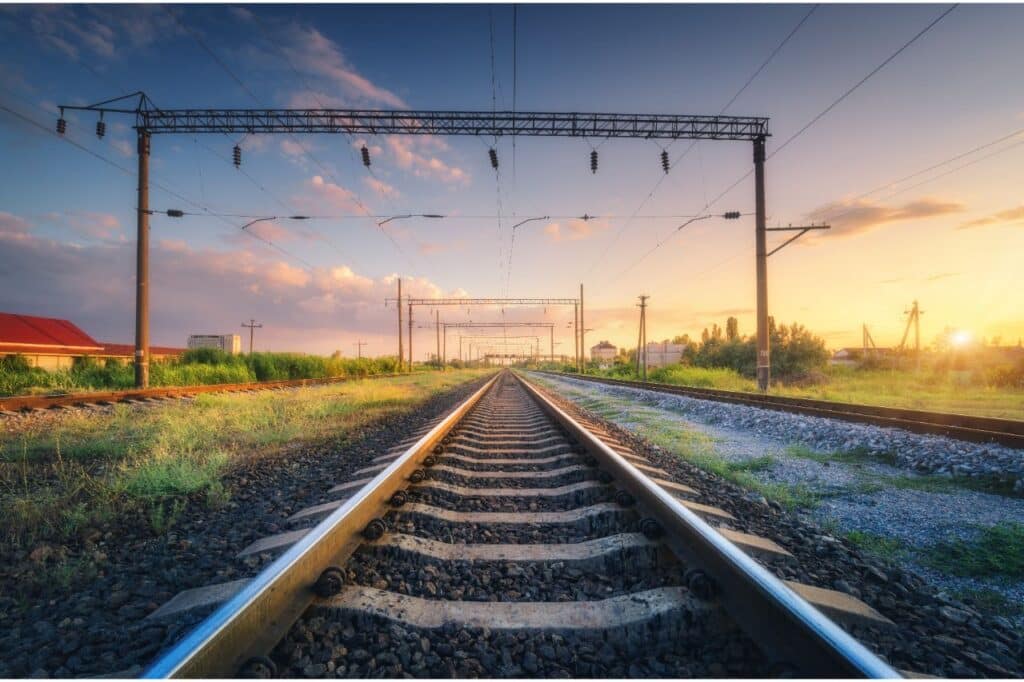 Kosciusko & Southwestern Railway
This is a Mississippi Rail Group-owned shortline. It operates 22 miles of track in total (previously run by Illinois Central). Additionally, its route spans Munsons Crossing and Aberdeen Junction. As of this time of writing, the company is currently dormant in automobile storage. 
Meridian and Bigbee Railroad
This shortline is still going strong after 90 years. Since 1930, its route runs from Montgomery to Meridian. It is also another Genesee & Wyoming-owned shortline. 
Meridian Southern Railway
The Meridian Southern Railway is a privately-operated class III railroad. Overall, it runs a total of 55 miles of track. Its lines travel from Waynesboro Meridian. Look through their website for possible employment vacancies. Click here. 
Mississippi Central Railroad (MSCI)
This shortline is another Pioneer Rail Corporation-owned rail on this list. Mississippi Central Railroad runs three separate routes in Alabama. This includes Alabama, Mississippi, and Tennessee. Click here for more. 
Mississippi Delta Railroad
This is a 60-mile-long privately-owned class III shortline. Mississippi Delta Railroad connects Swan Lake with Jonestown. Additionally, MSDR hauls about 1,000 carloads of freight each year. It also accommodates a few excursion trains.
Mississippi Export Railroad
Origins of the Mississippi Export Railroad hail from 1992. Back then, it constructed a network that traveled Pascagoula and Luce Farms. Overall, it ran 44 miles of track. Presently, it still runs this line. Learn more about this shortline by clicking here. 
Mississippi Southern Railroad
This is a Watco-owned class III shortline. Its network totals 28 miles of track. Moreover, it travels from Newton to Bay Springs. Click here to learn more about the MSR.
Mississippi Tennessee Railroad
Homan Industries is the owner of this class III shortline. The Mississippian Railway Cooperative also manages it. Its tracks stretch from Amory through Fulton. 
Old Augusta Railroad
The Old Agusta Railroad is a Georgia Pacific-owned shortline. Its operations commenced back in 1983. Its primary purpose is to service the Old August of Mississippi. All in all, it stretches 2.5 miles of track. Additionally, its lines also link with Canadian National.
Port Bienville Railroad
This class III terminal line offers terminal and switching services for Port Bienville. Overall, Port Bienville Railroad spans 8 miles of track. 
R. J. Corman Railroad
BNSF provides trackage for this RJ Corman class III shortline. It serves individuals throughout Memphis south. All in all, its tracks run a total of 47 miles of track. Moreover, it offers transloading. R. J. Corman Railroad also hauls farm produce.
Kickstart Your Railroad Career With These Railroad Jobs in Mississippi! 
There you have it, the railroad jobs in Mississippi. By now, you probably know that there might be a plethora of them. The more, the better, right? You'll find a railroad job in no time! 
The job-hunting process will not be perfect. As with any employment, there are going to be certain hurdles. But, don't worry. It will all be worth it in the end, you've got this!
Not completely set on Mississippi yet? Have a look at our job postings by state. Click here. And we post content about the industry occasionally too, Click here to learn more. 
That finally wraps up our list of railroad jobs in Mississippi. Good luck with your job hunt and railroad career!